Cash
You pay for your order in cash to the courier upon receipt. Together with the order you get a receipt containing all the headings of your order.
Bank card
Pay by credit card (VISA/MasterCard) can be like when placing the order online, and in order courier delivery.
1. Payment by credit card (VISA/MasterCard) over the Internet
Payment for orders made via the Internet immediately after its completion.
2.Upon delivery of the order by courier
To pay by credit card (VISA/MasterCard) when ordering delivery by courier, you must choose when you make the payment method cash.
Before receiving the order to warn our delivery service that will pay off the card.
In order to make payments will be supported payment systems VISA, MasterCard.
Service is not available at the order of the regions. The signature on the card must match the customer's signature in the passport (or other identification document
How to pay with a Milliön?
For the convenience of customers, our website is connected to a network of payment terminals Million. Now you can download via the terminal MilliON funds to your personal account on our website and from it to pay for their orders.
Below you can see how to make a payment through terminals MilliON
On the screen, select the "Discounts and coupons»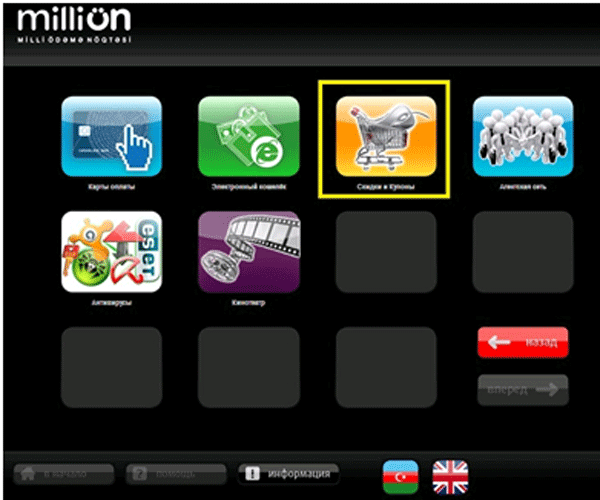 Then click on the Ali & Nino: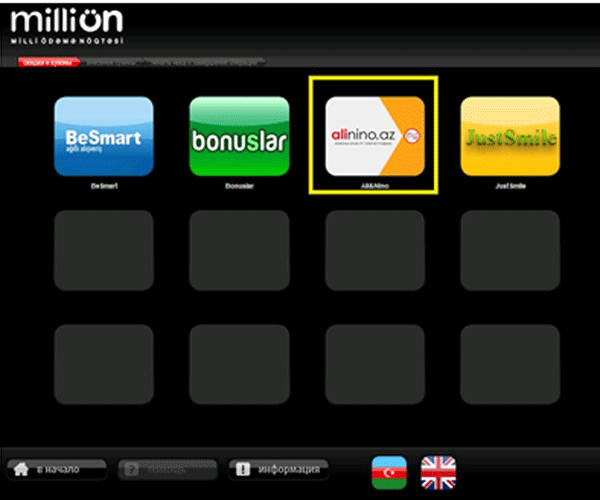 In the "Customer ID» box recruit ID: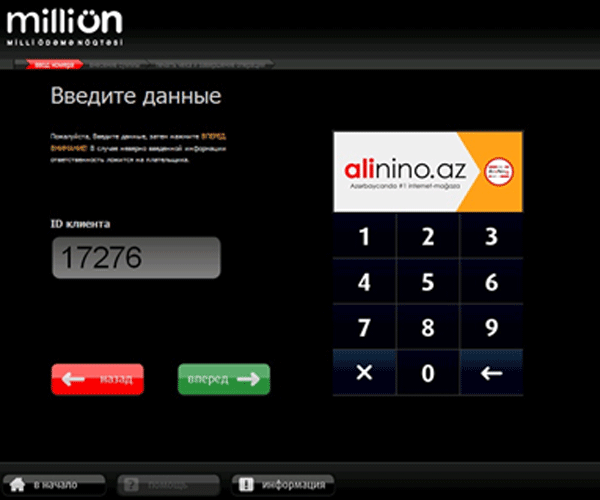 Confirm accuracy of the information: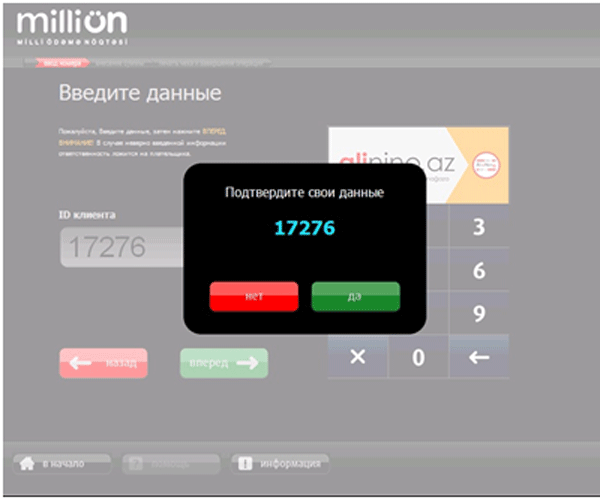 Information verified by the system: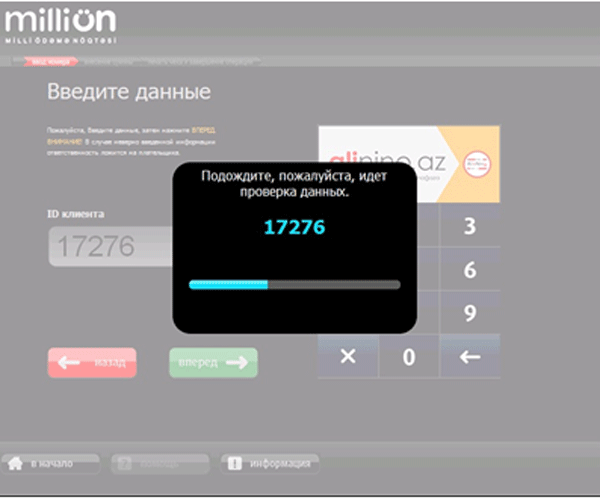 Go to the point of payment. All customer information is displayed on the screen. The customer enters the money in the bill receiver and activates "Forward." Push the button and get a receipt confirming the payment.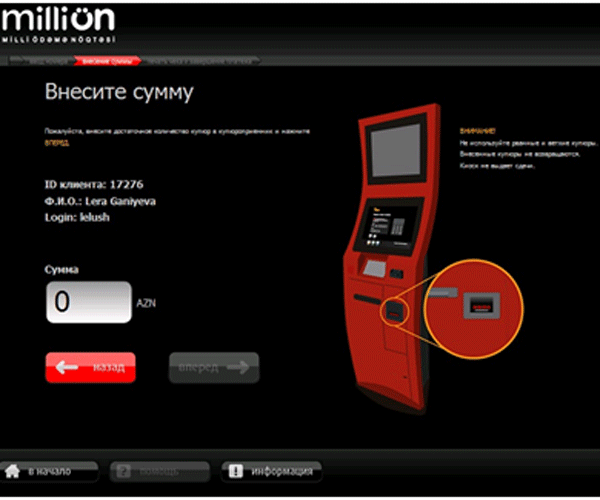 Postal transfer
You can make a pre-payment for the order at the post office. C tariffs for postal transfer can be found in post offices AzerPoçt.

Be sure to include as payee "Əli və Nino MMC", and in the comments to the payment - the number of your order.
The term of the transfer of funds by mail is 1 business day. If you paid the order, but the funds have not been credited within a specified time, please notify the Service to work with clients.
Bank transfer
You can pay through any bank operating in the territory of Azerbaijan.
Term transferring the money - 2-3 working days.
When paying by bank transfer will be charged an additional fee for a bank transfer of funds, which is an average of 3% of the order value.
Be sure to include as payee "Əli və Nino MMC" and in the comments to the payment - the number of your order.
Our details:

Benefeciar: "Əli və Nino" MMC, Tax ID: 1402181341
Account number: AZ63JBBK00000380300000004444
Bank: "Bank of Baku" ASC Mərkəz filiali, Tax ID:1700038881
Code:507592
Coresspondent account: AZ27NABZ01350100000000007944
S.W.I.F.T JBBKAZ22

If you paid the order, but the funds have not been credited within a specified time, please notify the Service to work with clients:
Phones: +99412 493 04 12
,
+99451 312 24 40
email: info@alinino.az